TestRail User Preferences can only be updated by Administrator role. TestRail provides different access rights to different types of users depending on their roles.
Roles are set of permissions that can be assigned to user and groups. To configure roles, select Administration > Users & Roles.
Note: Only an administrator can change the roles to a user.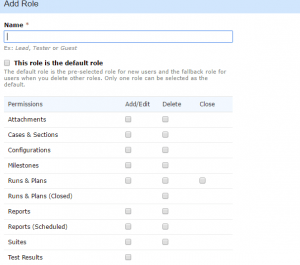 The above picture describes the basic set of permissions that can be assigned to a role. Each of the permissions has two basic activities.
Add/Edit
Delete
The specific permission can be set by checking the corresponding textbox.
For example, if you want to provide Add Test Case permission to a tester, then you need to check the textbox adjacent to the Cases and Sections permission and click on Save Role.
You can also edit the user and change their role as required for the project.